Funky Fungi: How cool can be the city mushroom farming
04/10/2018
Urban farming is now a hit in most food discussions. From planting food by hand at home to realize farm to table concept, many concepts initiatives are pop up everywhere. Among all kinds of edible goods, mushrooms are probably the simplest and the tastiest example.
It easily demonstrates how a small remote place can turn into an urban farm and grow some sustainable and low cost food in urban areas. We've selected two super cool and funky projects specialized in mushrooms growing in cities with a twist of design and sustainability!
Berlin Floating University: Growing fungi in Bauhaus way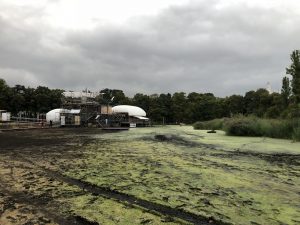 When people think about city farming, what come first into their mind? Vertical farm with LED light, aqua botanical systems or even citizen commune gardens. The Floating University Berlin is an experimental projects that also embraces a century of Bauhaus architecture where they relocate when they find an empty spot. Located in a remote area of Südstern -Berlin Kreuzberg-  the whole architecture design uses the water resource, the environment as well as the community to process and make the project work. They create a swamp of use in aqua areas and turned them into an experimental fields, right in the middle of the city. The team designed a rain water collecting system working with gravity that recycles water in order to grow mushrooms in retired bathtubs!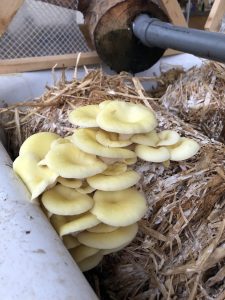 Mushrooms colonies in light yellow and milky pink color, flourishing in white bathtubs filled with compressed straws, surrealistic as artworks. All is edible. The Berlin Floating university project also tries to collect every organic part of plating disposals and kitchen waste for reuse. This overall experience -Bathtub fungi in a Bauhaus environment-  embodies the importance of food production in any kinds of habitat, especially big cities and . Using the unused to avoid waste.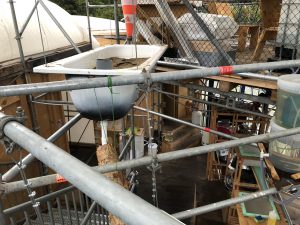 This innovative inter-academic project explores new possibilities for city dwellers. They tend to demonstrate how human beings should co-exist  easily with limited nature environment and resource in urban areas.Various artists give workshops, people gather into the swamp to experience cool events from Spring to the end of Summer. The 2018 season is already closed since the 16th Sep but documentary book about the Floating university will be published in 2019.
Brussels: Champignons de Bruxelles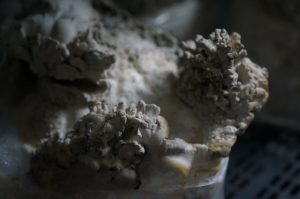 Champignons de Bruxelles has developed a cyclic economy mode in to to be able to farm in the city. Belgium is famous for its beer brewery, but you probably don't know that 90% of  the raw material are leftovers . Champignon de Bruxelles brilliantly starts their business from collecting the beer organic wastes and use it to grow mushrooms. And they grow literally out of trash. The beer making waste is mixed with wheat and barley which makes it super clean and it has been previously pasteurized. The biochemist of Champignon de Bruxelles team worked scrupulously on a nutritious base to grow their mushrooms. And it has been working quite well!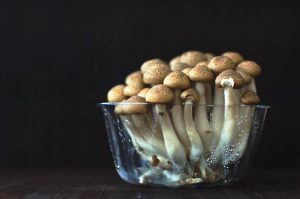 Champignons de Bruxelles not only uses food waste, but also idle spots. They choose abandoned historical market building basement in the city and install their mushroom farms.  The humidity and lightless environment is just perfect for mushrooms.  The combo : abandoned space and waste free is just the perfect match. On top of that they hire people to take care of the growing and the entire project is supported by the social welfare. This company is the perfect exemple of a real social enterprise in a big capital and  it shows a great example of social entrepreneurship.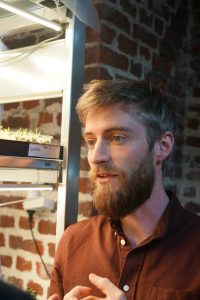 From now they price and sell fresh and dried shiitake products, deliver mushrooms by bike from farm to table. This is a perfect example of a great way to produce clean with a low carbon emission way.