Nampelka Wine : Biodynamic Treasures from Argentina
01/10/2018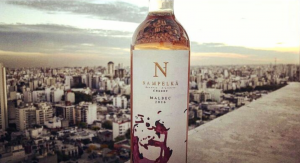 Where do you come from, what is your background? Can you tell me more about yourself, your passion for wine and biodynamic?
Dai: I am the Argentinian Co-founder of Nampelka. I am from Tierra del Fuego. Since I am young I had the wanderlust and the curiosity to see the world and being in contact with different cultures. I studied International Relations in Buenos Aires, and worked in the Nederlands Instituut in Buenos Aires, promoting the Dutch culture in Argentina.
I had contact with entrepreneurial atmosphere because of my family, and I had always on my mind the idea of do something on my own. Moreover, I had the pleasure to discover the wine world step by step, first on our traditional barbecues on Sundays, and then I did courses to understand this passion. Fortunately, I met Alisa, we share this passion for the wine, entrepreneur life style, and sustainability. And that is why, we have connected all these keys to create our Nampelka world.

Alisa: I am Alisa and I am the German part in our co-founder team. I was actually born in Hildesheim, which is a quite small town close to Hannover in the north of Germany. After school I went to Hamburg and there I started to discover how much I love to travel in order to explore new places, new food, and new cultures. My passion for wine and food got even stronger when I moved to Milan (Italy) to do my Master in International Management. I felt like in heaven and I enjoyed so much to discover all the different types of wines – maybe that is also the reason, why I still live in Milan (laugh). It was during my master thesis that I got to know to the approach of biodynamic wines as I analyzed the business models of sustainable wineries in Italy and Germany. And in this time, Daiana was also in Europe. So, we travelled a lot together and we had a lot of hours in a Flixbus from Milan to Hildesheim. That was actually the moment in which we started to think about Nampelka.
Can you tell us about the the DNA of Nampelka and your upcoming projects? You are also working with artist, can you explain the link you are making between wine and art ?

Our key message is "We are not perfect. We are natural." as we want to highlight the fact that we should start to re-learn how to appreciate imperfection. We – as Nampelka – focus on showing how beautiful and unique natural things can be just due to the fact of not being perfect. It shouldn't be our aim to perceive only standardized and perfect objects as precious.  

In order to be able to express our vision, we worked with Yamila de Pico. She is an Argentinian photographer located in Berlin. Yamila created for us a photographic project called "Elementos". In these pictures she has transformed our motto into images showing the natural elements in the beauty of our human bodies and in the beauty of the nature.

By having developed this photographic project "Elementos", we fortify the message of our slogan. We want to create a unique experience in which people can feel the beauty of natural objects, without being perfect.
And in the end, we perceive each bottle of biodynamic wines as art. Art which is made by and together with the strength of the nature.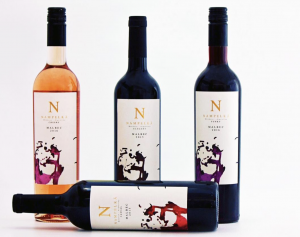 What are the grapes you are using/selling and how do you choose your winemakers/domain ? 
The grapes that we use are Malbec grapes. Originally, they come from France and it is the cot noir grape. Argentine Malbec tends to be fruitier, with ripe tannins and a velvety end. From the beginning we were sure that we want to work with a biodynamic vineyard, we selected some biodynamics vineyards from Mendoza, and we felt in love of Bodegas Krontiras because we share the same values and ideas.They are quite small and they put all their passion into their biodynamic wines of high quality.
Since when are working with Argentina and how have you chosen this place in the world to sell your wine? What makes it special to your business and makes it interesting in the economy scale?
We started with our first ideas of our Nampelka project in 2015 and then, one year later, we have organized the first order from Mendoza to Hildesheim / Ilsede, where our storage is located. For now, we do not sell in Argentina as the market is very tough due to high competition and a rather instable economic situation. We focus on the European market as the winery is not yet strong in the market and we see a great potential for biodynamic Malbec in Europe which is particular and very expressive in its taste.
What would you like to achieve with Nampelka and bring to the wine economy?
Our motto is: We are not perfect. We are natural. And we have selected these words to express that our aim shouldn't be to be perfect. Our objective should be to be ourselves as human beings and natural as products that we want to consume. We should learn again to appreciate imperfection and to perceive it as something valuable as it shows that we are also unique. We see this connection between us human beings and the food and wine we want to produce in harmony with the nature. That is the reason, why we have decided to focus on biodynamic wines as we see the it as the fusion of human skills and natural beauty. As the current wine market is strongly dominated by regulations and certifications, which should guarantee a similar taste of every type of wine every year. We perceive changes of the taste due to different annually climate conditions as a strength which makes each bottle unique. Moreover, it makes it more interesting to taste the different wines and it reflects also the competencies of a winery. With Nampelka we would like to inform us consumers about these aspects.
What do you think is negative and positive in the today's wine world? What would be your input for more sustainability and positive change?

There are different aspects to look at in terms of sustainability. If we look at the production of the wine, we want to focus on biodynamic procedures as we believe that they keep the natural balance without destroying the natural environment. Whereas another relevant issue is the transport of the wines from the country of the origin to the target markets. For example, the first time we joined our order with a partner in order to increase quantities and exploit the capacities as much as possible. But we are aware of the fact that we need to keep on innovating and finding more sustainable solutions. Another interesting aspect is actually the packaging. Here we started to have several ideas. For instance, we would love to create a bag-in-box as it has lighter for the transport (though less emissions), and it is even easier to preserve the wines and their qualities. Unfortunately, we – as consumers – are used to glass bottles as they indicate us a certain quality. And the heavier the better. That is why, we as Nampelka are keen on starting to talk about these topics and inform the consumers about the benefits. And we know it will take quite a lot of time, but we are convinced to contribute to this change.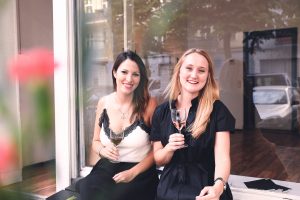 When and where people can taste your wine in the world ?
We are still at the beginning of our adventure with Nampelka and we are always searching for new wine bars, restaurants and wineshops in Europe that represent our values. So, if someone has some ideas – we are more than happy to get some tips (laugh).


Currently we are available at
Hermanas Winebar – Berlin
Weinzentrale – Dresden
Jante – Hannover
Weinkost Bar – Hildesheim
Wein Kusch – Hildesheim & Braunschweig
Hotel Neuer am See – Prien am Chiemsee
Winelivery – Milan

And if someone prefers getting the wines directly into the house, we also have our own online shop.