Oyster Klub#3 is coming back on the 13th of October at MotifWein
08/10/2018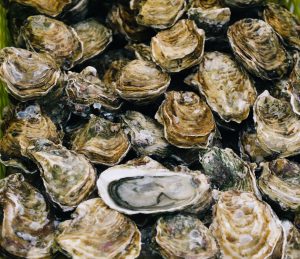 Meaty Taste from Fresh Clean Seawater
Marennes d'Oléron oysters are known by gourmets for its meaty, nutty and mineral taste. Oysters are IGP (protected label) as they are produced in the best way. Called  "huitre creuse"(cupped oyster) and known to be one of the best in the world, their meat has two colors: green or white.
Natural Algae Nutrition
The elegant green color of the oyster comes from what the shell consume. When the oysters are adult,  the process consists in making them grow the "claires" where they can eat plankton and algae. This is the algae called "La Navicule Bleue" that give them their deep the color and shape their taste and consistency. The most oysters evolve in a healthy ecosystem, the more sustainable is the production and the environment. Marennes d'Oléron oyster s are 100 % organic and natural
Farming in aHistorical and Traditional Way: Family Claires & Affinage
The history of Marennes d'Oléron oysters farming can be traced back to Roman age, where rich families purchased the oysters for their feasts. Now due to food regulation, only the baby oyster can be breed in the sea to be then matured in shallow ponds called "claire". Traditional "Affinage" process enhances the quality of the oysters and provides them with the safest and rich environment to grow in tradition and give the best flesh.
Why nature wine goes well with oysters?
Nature wine has the beauty to be made without any chemicals. Only made by the hands of Men with the help and rhythm of Nature. Nature is the first priority os winemakers as are Marennes d'Olerons oysters farmer's philosophy. No pesticide, non-GMO, we eat and drink from nature and appreciate it in the most genuine way.
Start with bubbling Spanish cava, fresh and dry to light up the night. You can then splendid your palate with a local Riesling or selection of natural wines from MotifWein…
Join the Third edition of OysterKlub at MotifWein on Saturday 13th of October.