What would you buy, if Bialetti go bankrupt?
19/11/2018
Bad news for all coffee lovers : the original moka pot created by the italian company Bialetti has high chance to go bankruptcy by the end of 2018. This is a real shocking news for all coffee lovers worldwide. The iconic « Moka Express » its recognisable by its octagon shape and his aluminum color. This convenient object is marked by a lovely gentleman logo on it, the symbol of the Italian coffee culture. The story started thanks to the two Italian engineers Alfonso Bialetti and Luigi De Ponti who  invented the moka pot in 1933. The concept was simple : put some brew coffee on the filter inside, pour water on the bottom part, close everything together and make it cook with on stove or an electrical heater.The boiling water gets pressurized pass by the filter to provides the filtered coffee on the top part. This simple and iconic design got soon very popular in Europe and in latin America.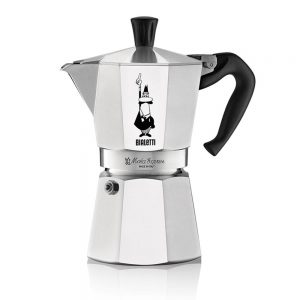 We have selected for you some very nice coffee pots ready to be used at home:
The Design Choice : Alessi Pulcina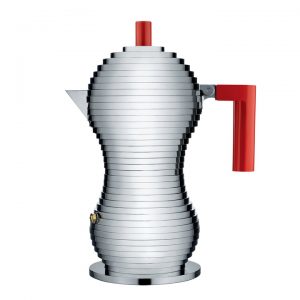 This pot above is the Pulcina Moka pot made by the brand Alessi,  the most famous Italian houseware and kitchen utensil design company that was founded by Giovanni Alessi in 1920'. Since 60', Alessi invited some genius industrial designers like Philippe Starck or Stefani Giovannoni to design for the Brand. They really wanted this brand to be a synonym of posh living style pots.
The Pulcina coffee maker was designed by Michele de Lucchi and is  revolutionary because its combines the technology developed by illycaffè and the design experience of Alessi. With its futurism shape, the moka pot is not only good to drink but also good to look at  in your house.
Material Choice : Bialetti Kitty, WMF Espressomaschine
All metalwares release small amount of metal ions while using it. If you don't trust aluminum material made product, which is the most common seen material for making Moka pot,it is worth for you to get a moka pot made with stainless steel. Aluminum is light, inexpensive and a good heat conductivity. Nonetheless some studies claim a correlation between Alzheimer's Disease and aluminum even though there is no direct proof. Bialetti Kitten is very secure and uses stainless material made by German. The WMF Espressomaschine is also very convenient and can be recognised by its Minimalism look.
Classic Choice : Atomic Coffee Maker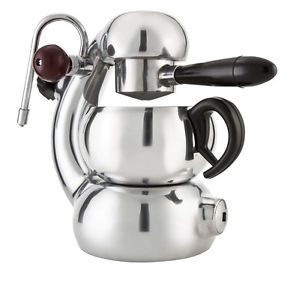 Atomic is that kind of stove coffee machine that let you feel like a barista at home. It has a classic look and shiny curves. The Atomic model was created and design by 4 different manufacturers in Italy (Brevetti Robbiati),Austria (Stella – Desider Josef Stern was the trademark holder),Hungary (Szigony M.V.), United Kingdom ( A.&M.G. Sassoon).
At the end of the day a Moka pot is one of the most sustainable way to brew coffee and enjoy the best of this beverage.  Simple, water saving and a nice provider of an amazing quality of coffee.