Night Kitchen: happiness is in the courtyard
22/06/2020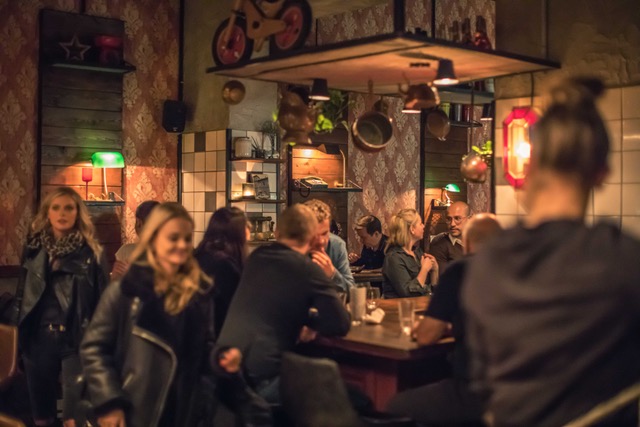 Curious about their « Dinner with friends » concept, we had dinner at Night Kitchen, an Eastern Mediterranean restaurant inspired by Tel Aviv nightlife. Located in Oranienburger Strasse, the hidden restaurant is in a lovely historical courtyard, surrounded by a sweet factory and an art gallery.
Note: we had the chance to come to Night Kitchen before COVID-19 outbreak.
Philosophy & history
Opened since 2017, Night Kitchen is, in a nutshell, a social dining experience.
The place is open « Every day from 5 pm until the last friend standing ». The staff chooses the dishes you're going to get according to your taste and all you need to do is sharing plates and having drinks… until you can't get any more!
Night Kitchen's Eastern Mediterranean cuisine is seasonal and try to use local products as much as possible.
You can order each plate separately or try their Dinner with friends, « a personalised menu, created especially for you, served family-style and designed for sharing. For 2-12 people ». Costing 42€ per person for the food and 56€ with bottomless beers and wine, the deal seems quite interesting. 
The founders, a couple from Tel Aviv, wanted to create a place which is a restaurant where you can come to eat, have fun and spend the night. Therefore, the dishes served are light: the plan is either to go out after dinner or to go home but still have enough energy to… fool around! No heavy dishes that will make you sleepy.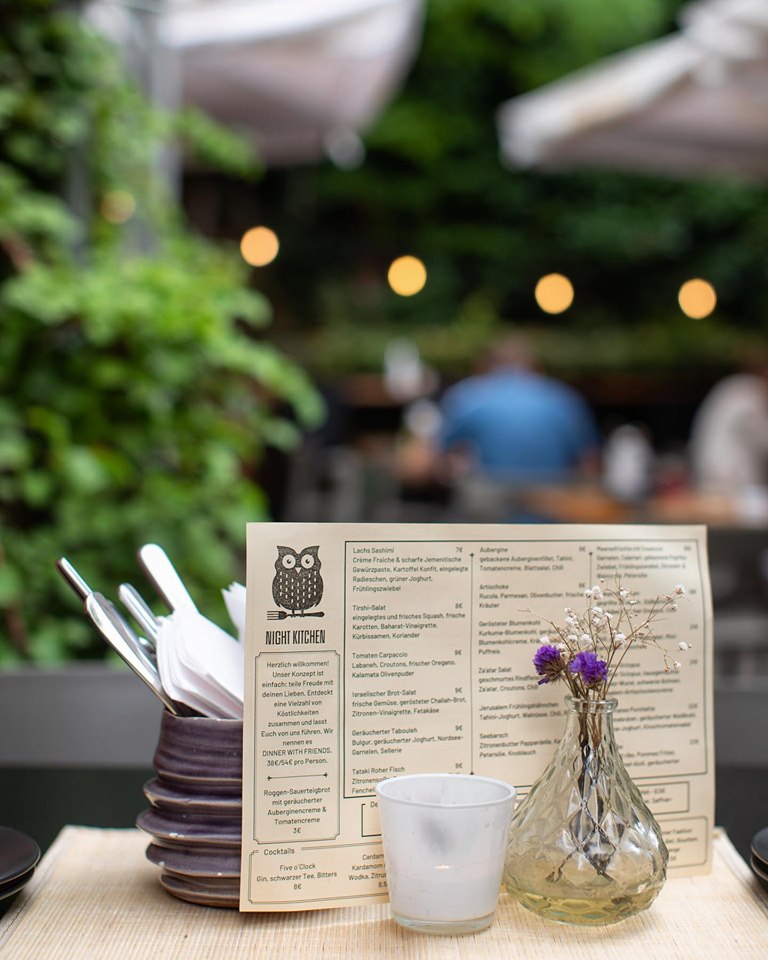 The restaurant is the second one of the Night Kitchen group. The story started with Night Kitchen in Tel Aviv, opened in 2012. The team has also operated the café/lunch restaurant Day Kitchen since 2018 in Tel Aviv. The owners decided to open a place in Berlin because the two cities are very similar. Indeed, both Tel Aviv and Berlin are multicultural and open-minded cities, with many young people.
The Israeli city is well-known for being a city with a strong food and drinking culture, with plenty of fresh and high-end ingredients. The German capital hasn't such a strong food culture – yet – but does have a more varied range of cuisines, mainly because there is more immigration than in Tel Aviv.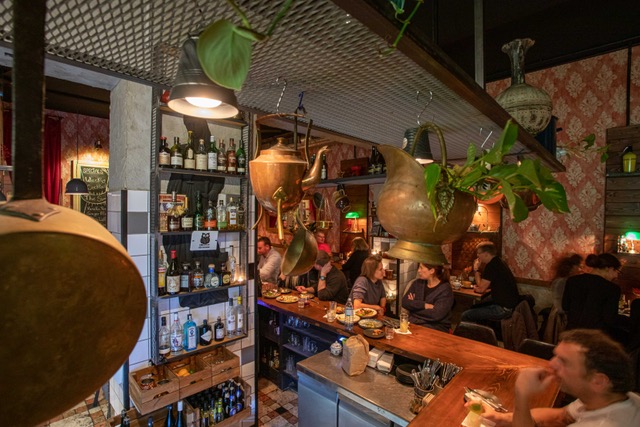 Our experience
We had the opportunity to taste signature and new dishes from the restaurant.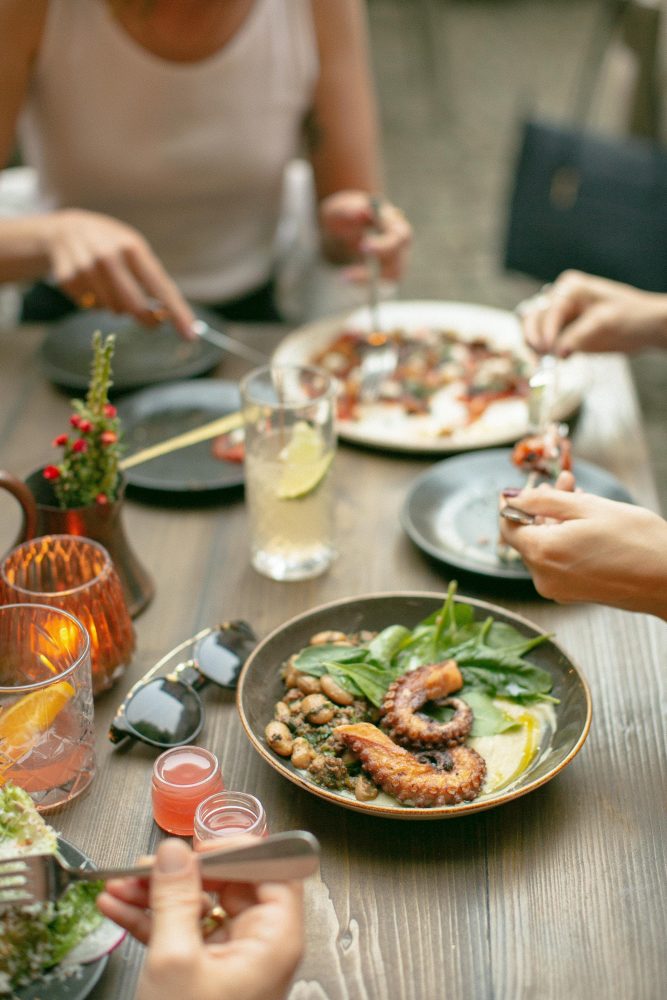 We started with Challah Bread as an appetizer, serving with h'raime butter, made from a sauce traditionally used for seafood. The butter was very smooth and moreish.
We then tried the tomato carpaccio, one of the signature dishes of the house. The thinly sliced tomatoes were very tasty, the croutons added a nice bite to the dish, and the kalamata olive powder brought a stronger flavour. We were impressed by the freshness of this plate.
The cucumber-beef-salad, a new creation of the menu, was our favourite! It was the first time we had such an interesting blend of ingredients in one dish: the pulled beef and the cucumber surprisingly went so well together, served with grilled corn, onions and herbs and a coconut-lime dressing. The whole dish was a real surprise and an original approach on a salad with meat.
Another signature dishes we tasted the grilled octopus (photo below).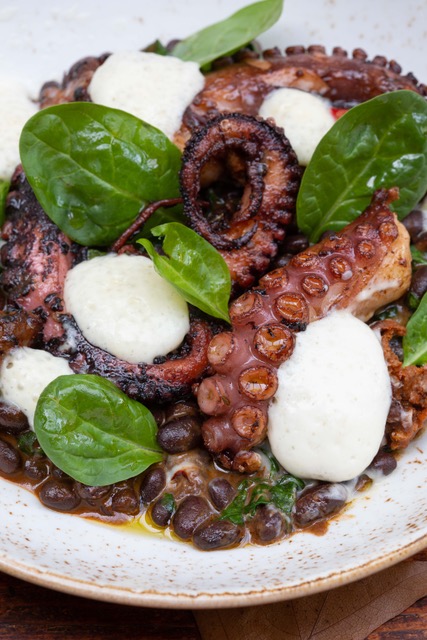 As seafood lovers, we were really keen on trying this dish and we haven't been disappointed. The octopus was perfectly cooked and we appreciated the « surf and turf » twist coming with the merguez.
The short ribs couscous, kind of a main, was heavier than the other dishes. The meat was good and very tender, but the flavours were a bit more expected (compared to the really creative dishes we tried before).
We finished the dinner with the pina colada, a dessert made of vanilla and pink pepper pineapple served with vegan coconut custard and roasted almonds (photo below).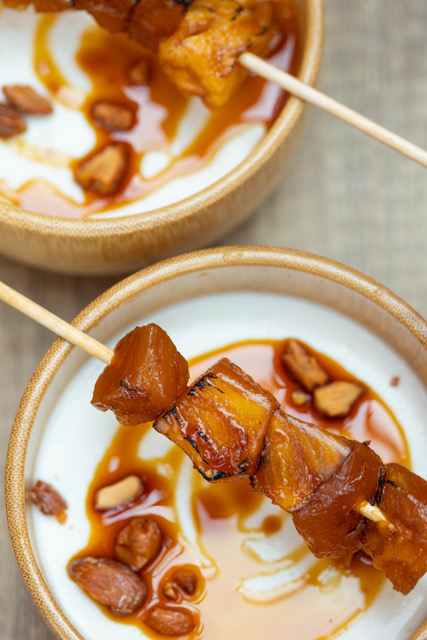 We were quite full and almost rolling under the table when this last dish came but it was light! The custard was like a little sweet cloud in our mouth and the pineapple had a delicate spicy seasoning.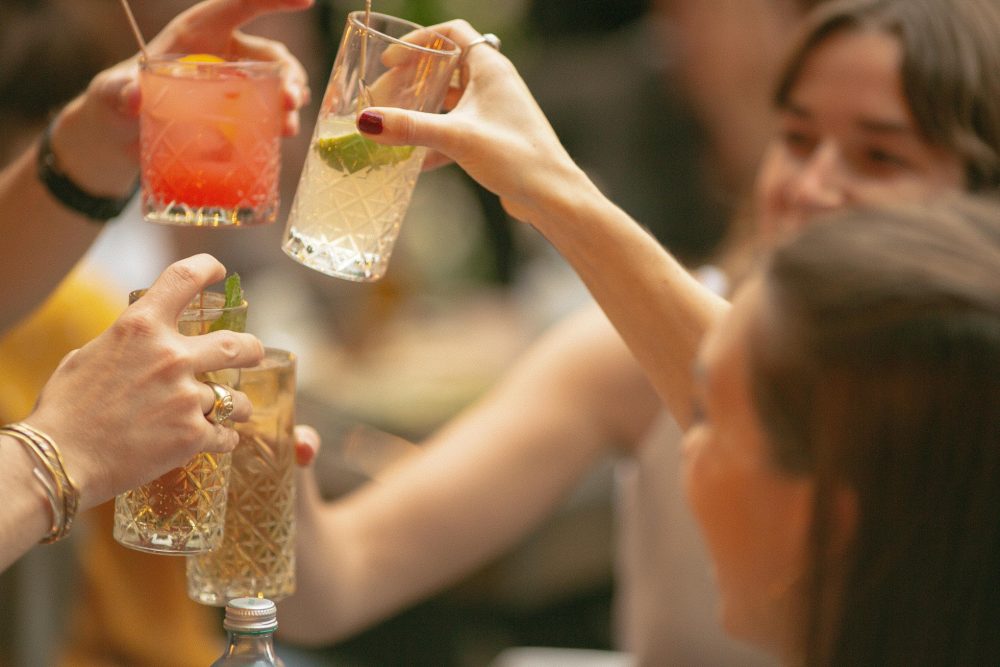 The dinner was a blast and we will recommend it to celebrate a birthday or so with a group of friends. Special mention to the friendly staff that made us enjoy even more the time you spent there. The place itself is warm and welcoming rather than fancy, with handmade items and cool artworks. We came in winter so we were not able to enjoy their summer garden but we will definitely come back to get more of this delicious Tel Aviv vibe in the sun.
Photos by Matan Kedar & Kfir Harbi
We were kindly invited to dinner, but it doesn't affect our opinion!