What is the story behind BRLO, a local craft brewery that belongs to Berliners?
16/11/2018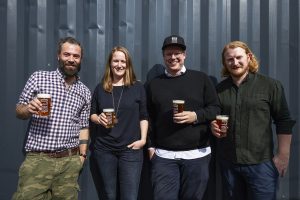 Q/Can you explain us the Story behind BRLO and how it started as a Gypsy brewery?
K/BRLO was founded by three friends from University, Katharina (me), Christian and the brewmaster Michael. During the first year BRLO didn´t have a own brewery and we were producing beers with partner breweries, in a very bohemian way.
BRLO was cooperating with some partnerships and made beers according what we designed recipes with some community help. In 2016 we decided to set up our own stationary brewery, making beer according to our own design and schedule where people could come regularly.
BRLO is an old-Slavic word for Berlin which means "swamp land". We chose this name as we feel very connected to the location we are in and identify with the land and products around us.  We cooperate with selected German producers (like our organic malt and hops which comes from the south of Germany ) and family owned businesses.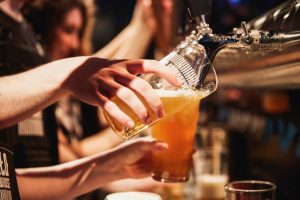 Q/ How do you achieve to be local and sustainable?
K/ As a Berlin craft beer brand, we are active in local communities and sustainable practices. We cooperate with local producers, we give our beer mash waste to our farmers so that they can use it to make compost and grow good vegetables for us. It is a truly circular economy.
We also support local events and community projects. The BRWHOUSE doesn't only have our own beers on the menu, we also have beers from other local craft beer breweries in tap. It is a real community mindset. That is how we involve other local businesses build a sustainable system.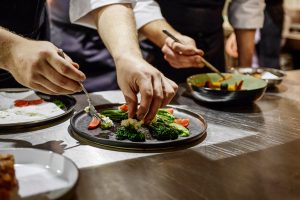 Q/ Can you tell us a bit more about the BRLO's food concept?
K/ BRLO provides a veggie based menu. We use local producers' vegetable as much as possible, and we try to use the entire product which means that we reduce food waste as much as possible. For example, we have a cauliflower dish where we cook also the stem part of cauliflower. We proudly use ingredients from our beer making to design food recipes. We use malt and barley to make bread and risotto for example. It's variations of  the same ingredient and that brings some new taste to our clients.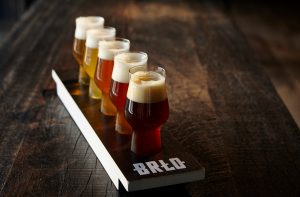 Q/German beers are famous for its purity law (Reinheitsgebot) tradition. Does purity law affect the development of craft beer in Germany?
K/ When people hear about "craft beer", they might think " it is not a pure original product". But, actually, a beer just needs certain ingredients to match German purity law and it can still be a creative craft beer. These two conditions are not mutually exclusive.
Our beers are products under purity law. Even when we are making some recipes with CBD hemp infused beer. We applied a special certification to make beers under all traditional regulations.
Q/ How do BRLO creates locality through beer products? Introduce us to some of your special beers please!
K/
BRLO GERMAN IPA 
If you are a craft beer lover, you must comprehend how tricky the naming of "German IPA" is. Normally, when beer lovers refer to IPA(India Pale Ale), people know that it is a very iconic American style of craft beer with a strong citrus aroma and an obvious bitterness touch. BRLO makes its own German IPA only with hops grown in Germany. We mix three different kinds of local hops, making a unfiltered IPA which is totally different from the stereotype people know. Our IPA has a toffee and caramel tone, brown, mild and is very easy to drink. This German IPA is very popular in Berlin, you can see it almost everywhere in cool bars.
BRLO BERLINER WEISSE
Berliner Weisse is a sour beer. It is light, fresh, crisp and with a  delightful sour taste and a rather pale gold color. It is often a suggestion for sour ale tasting entry level drinkers. There is even an anecdote that Napoleon described Berliner Weisse as "Champagne of the north", I guess real French people won't agree with this statement, but, Berliner Weisse is an absolute bliss and a very easy drinkable booze.
This beer used to be very popular before WW1 in the Berlin area, but after the WW2 that is the Bavarian lager that tooks the first in people's hearts.
Hence, Berliner weisse became a kind of drink more than a beer and is normally served with green or red syrup. Nowadays, local craft beer communities try to relaunch the glory of the Berliner weisse and this is why there are more and more breweries that try to make it. Even Danish brewery Mikkeller makes it as well. By the way, this beer is regulated by a geographical indication, which means that only the Berliner weisse produced in Berlin can use this name.
BRLO Naked
A non-alcoholic beer that allows everyone to enjoy and having fun without getting drunk. Citron and  lemon scents from hops makes it a cheerful bubbling delight in warmer days.
Interviewed by: Mokki Hsiao